See on Scoop.it – Errol A. Adams, J.D., M.L.S. Infographic Resumes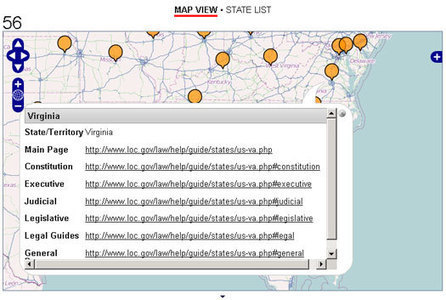 The Virtual Services Team in the Law Library has been looking for new ways to present our digital collections and information, so last week I decided to give ViewShare a spin. ViewShare is a free web application for generating dynamic views of data sets. It is based on the open source Recollection software developed by the National Digital Information Infrastructure and Preservation Program (NDIIPP) at the Library of Congress and Zepheira. Recollection incorporates RDF, Simile Exhibit, Akara, and Django behind the scenes to integrate, transform, and use data to build a variety of interfaces including timelines, map views, image galleries, and scatterplots.
I wanted to test a small data set, and Alex LoBianco mentioned to me in passing he wished it was easier to directly access state information in the Guide to Law Online. Right now, it takes a user several mouse clicks to get to state data in the Guide from the Law Library homepage. Plotting the state links from the Guide on a map by state seemed like a good test to me.
by Tina Gheen
See on blogs.loc.gov