See on Scoop.it – The Information Specialist's Scoop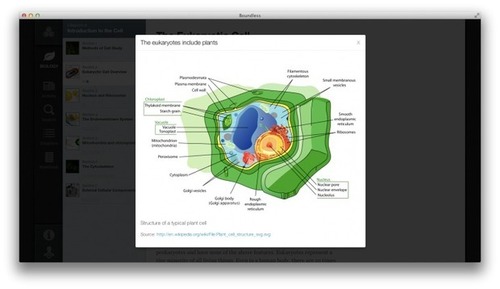 "The world of digital textbooks is more than heating up. It's on fire. Amazon just launched a digital rental option for textbooks. Companies like Chegg are becoming academic hubs that can improve your education experience through more than just textbook rentals.
But all of the options to use digital textbooks have cost money. And teachers as well as students simply don't have much.
Until now.
Boundless just launched the public beta version of its brand new site. What is Boundless? It's a way to easily turn all of the open source information that exists in the world into a simple easy-to-use digital textbook. And it's free.
This is one of the most exciting announcements that came across my inbox over the past few weeks. Boundless is shaping up to truly disrupt the digital textbook industry and the newly launched tools are robust enough to do just that. But enough hyperbole and hot air, here's what you should know:
How It Works
Boundless taps into the world of free & open access information and turns it into a beautiful yet functional digital textbook.
It's iPad-friendly, works on laptops, and is simple enough for teachers of any aptitude to use.
The system generates digital resources for you based on the textbook you would normally have used in the course.
You can still use the printed textbook and use Boundless as a free digital supplement.
There's an instant search feature built into the new Boundless UI.
You can digitally highlight and add notes to all of the content. I could see this being a big help to anyone nervous about deploying technology that could replace printed textbooks.
Boundless has a fun new feature called SmartNotes Premium which boils down all the content into easily digested factoids, summaries, and roundups. It's like having a customized 'Top 10′ list for each topic you're reading about. This feature is $20/course just FYI.
The digital textbooks have no expiration date. They're not rentals or anything that would cost you money since it's all open source…"
See on edudemic.com