See on Scoop.it – The Information Specialist's Scoop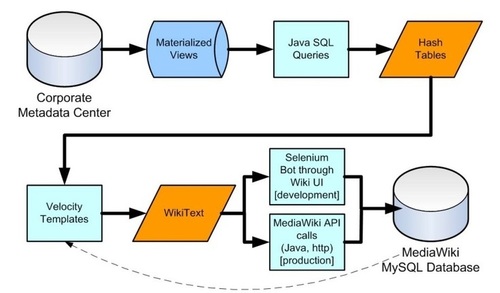 by Charles Roe. In Part 1 of the article "Wikify Your Metadata!
One of the essential problems facing the migration and adoption team was how to deal with the semantic challenges of moving from the older legacy system to a fully new one. The business analysts spoke the native system's vocabulary, but the EDW semantics would be based on the Enterprise Logical Data Models semantics, including entirely new business terms independent of any source applications – and thus for the users there was a sense of impending doom. They needed a metadata system that would include a number of primary driving requirements, including: Structured, non-editable content from data SMEs; collaborative content from business users, advanced search capabilities and a regulated governance structure to keep everything together. After looking at many systems, weighing necessary costs versus short time constraint, they decided to build their own Data Dictionary from the open source, MediaWiki software package. They already had it in-house, it has many add-ons and extensions that provided a rich and robust environment that would allow them to customize and meet all their driving requirements, it could be implemented quickly and would allow the business users to take ownership of the new data definitions. Part 1 of the article discussed those elements in more detail.
Part 2 of this article will give a brief description of what wiki technology is and how it was utilized by HPHC, certain information architecture solutions they devised during the project and conclude with a discussion of some of their main challenges, successes and future directions with the system after its implementation.
See on www.dataversity.net