See on Scoop.it – The Information Specialist's Scoop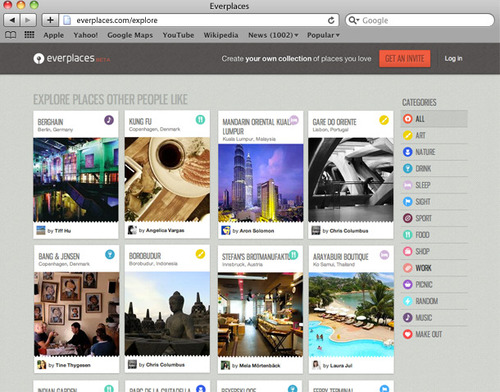 Giuseppe Mauriello: Everplaces helps people keep track of places that are relevant and interesting to them, like a personal wish list or to-do list.
It is a new app that essentially functions as a Pinterest for the real world, a service that lets you save and share snapshots of interesting places via the Web or smartphones.
From official website, key features are:
1) CREATE YOUR PERSONAL COLLECTION
Keep a record of all the amazing places you've experienced in your travels or those you'd love to try out one day. Make them personal by adding your own pictures, categories and notes, and we'll turn them into a beautiful, organized and useful collection.
2) EXPLORE WHAT OTHER PEOPLE LIKE
You can follow a whole person or only some of their categories, and you can save any place you find directly to your collection.
3) EXCHANGE RECOMMENDATIONS WITH FRIENDS
Help your friends find the best spots in cities or countries you know well. You can share any place in your collection by email or SMS and post to Facebook or Twitter.
4)KEEP YOUR FAVORITE PLACES IN ONE PLACE
You never know when you discover a great place, so we make it possible for you to save places anywhere – on your mobile, browser or using the Everplaces bookmarklet.
5) ACCESS YOUR COLLECTION ANYWHERE
Your Everplaces collection follows you everywhere, so it's at hand on any computer or mobile you use, exactly when you need it.
Check and try out it: https://everplaces.com
Read also review by The Next Web here: http://j.mp/IodMU6
See on everplaces.com