See on Scoop.it – The Information Specialist's Scoop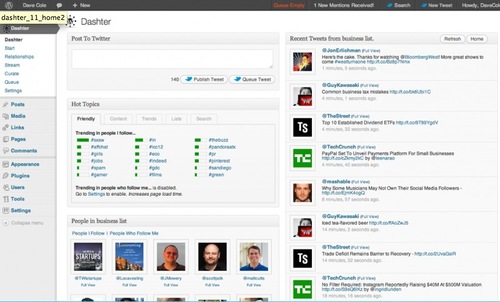 Robin Good: If you are searching for a way to curate Twitter content from within WordPress, this new plugin called Dashter provides all you may be seeking and a lot more.
Key features include:
1) LISTEN to real-time conversations and tweets on Twitter, with an ear towards listening for topics & conversations that are related to the content you post on your website. Filter out the noise and use Dashter's listening tools to discover tweets that matter to you.
– You can control your entire Twitter account from within your WordPress dashboard;
– View trends in your social circles, use your content as a springboard for searches, and stay connected with your lists;
– Reply, ReTweet, Quote, Favorite, and all your favorite Twitter actions are available throughout your blog. Listen in on any search, list, or hashtag – or just explore.
– Unlimited listening posts in the stream.
http://dashter.com/tour/listen/
2) CURATE with Dashter by utilizing its own set of collecting, organizing, and creating fresh content tools. Unlike third-party "curation" tools – the curated content originates on your domain and from your website, and not from your curation service web site.
– When you curate a tweet using Dashter, not only is the tweet content pulled in to your post, but we also import the people who were included.
– Dashter will automatically import any #hashtags from the tweets you curate as WordPress tags.
– Curated Tweets can be embedded using basic formatting, the Twitter Embed method, or using the popular Blackbird Pie plugin.
– Unlike other curation tools on the market, Dashter focuses on driving traffic back to your website.
http://dashter.com/tour/curate/
3) CULTIVATE social relationships on Twitter with far greater depth and precision than ever before.
– Targeted interaction;
– Dashter shows you not only the latest connections but the most substantial ones – giving you insight and intelligence ahead of any social engagement.
http://dashter.com/tour/cultivate/
4) AMPLIFY your site's social reach.
Dashter includes a built-in social scheduler to help ensure the broadest reach possible.
http://dashter.com/tour/amplify/
More info:
http://dashter.com/introducing-dashter-1-1-start-screen-and-curation-projects 
Pricing: License $65.00 one time, on 1 domain / website.
Start Dashter tour: http://dashter.com/tour 
Watch demo video: http://vimeo.com/33056090 
Sig-up and try-out: http://dashter.com
See on vimeo.com